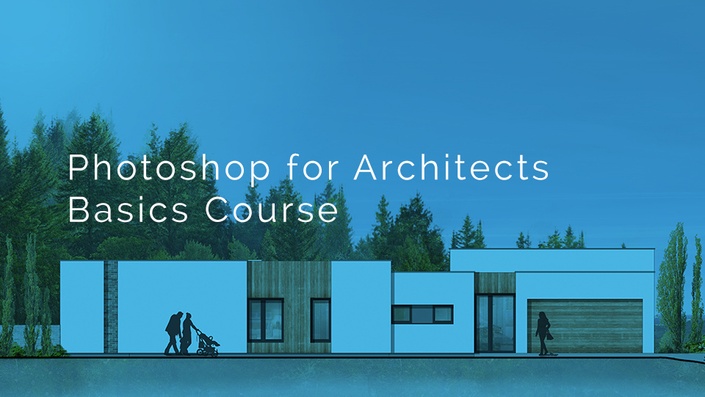 Photoshop For Architects - Basics Course
Everything an architect needs to know about photoshop to start creating amazing visuals
Watch Promo
You don't need to be a master at photoshop to get results. You just need to know what tools to use, and how to get the best out of them. This course does just that. It teaches you the basics, so you can go on to create great images, visuals and designs easily, and efficiently.
Whether you are looking to gain new photoshop skills for your first college assignment or university project, or you are an architect working in practice looking to sharpen your skills - this course will work for you.
I have broken down the different phases of photoshop into easy manageable chunks and walk you through how to use the main tools, and demonstrate the techniques using architectural projects.
The companion guide and keyboard shortcut sheet are there for a reference so you can solidify your skills.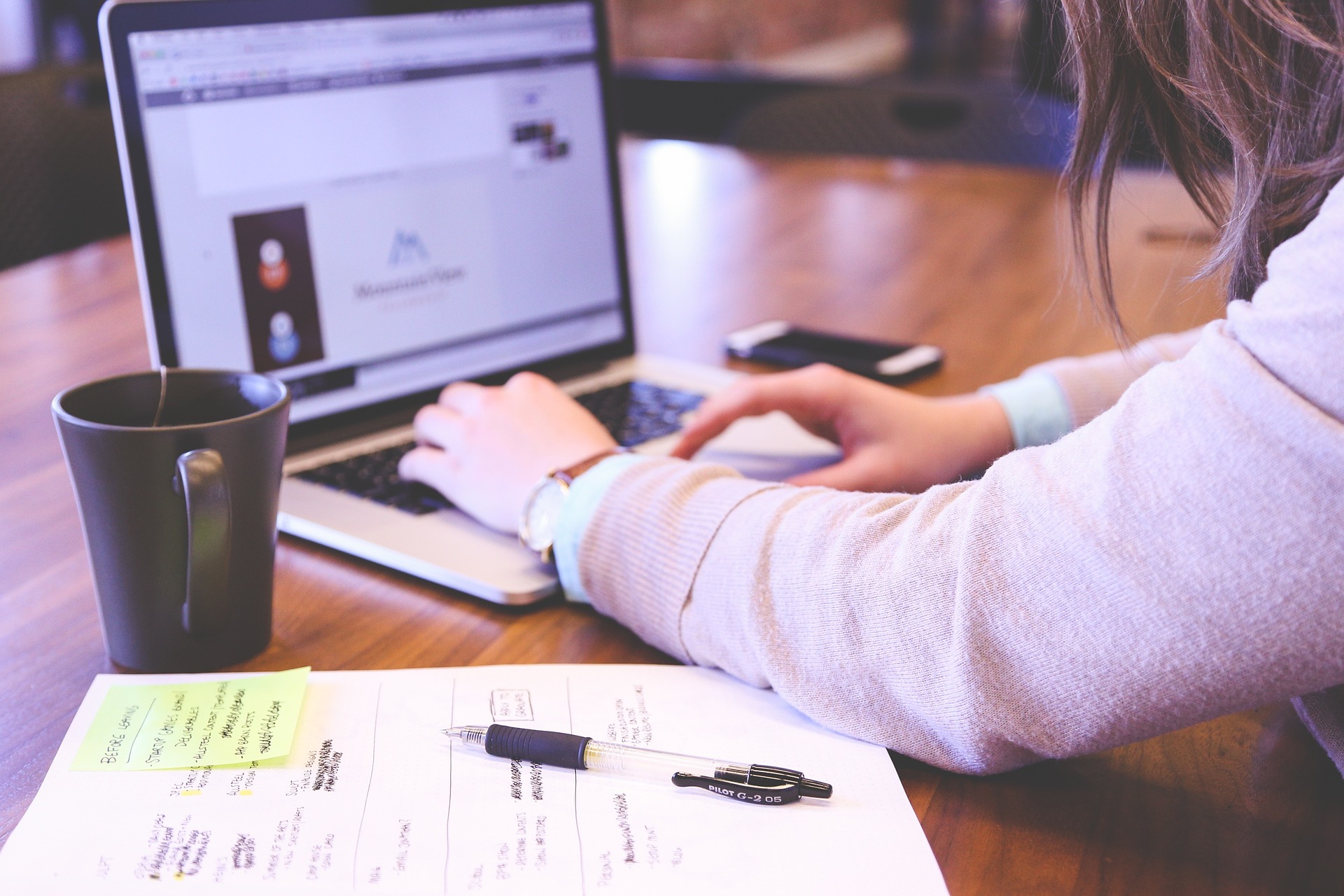 What you will learn
Module One in the course introduces you to the Photoshop workspace, setting up a new document and the main tool palettes within Photoshop.
Module Two focuses working with layers, how to use layer masks for efficient workflows, using adjustment layers to make non destructive changes to your images. We also look at layer styles, blend modes, opacity and filters.
Module Three explores selection tools, such as using the marquee tool, magic wand, lasso and the free transform options.
Module Four is all about the drawing tools. These are some of the most exciting features in photoshop - we look at the kind of effects and outcomes that can be achieved with brushes, where to download them and how to use them. We also look at using brushes with masks, fill and paint bucket tools and the shape tool to create useful entourage in your drawings.
Module Five explores collaging and editing. We look at how to insert images and textures into your document, how to cut out images and working with type. Finally, we go through some of the really useful resources and websites that provide downloads that will help you create amazing visuals.
Module Six provides a complete step by step guide to creating a site analysis diagram. We offer three different types of site analysis drawing and go through each one, step by step. You can also download the file to work along side me, or just download the completed file to see how it's done.
Module Seven is a complete guide to creating an elevation illustration. Once again, we go step by step through the process, with all the files available to download.
The course also includes 12 exercises where you can practice the techniques being taught, and upload your files for feedback. The exercises allow you to go through the steps, experimenting with the different techniques and outcomes. They provide a great opportunity to consolidate your learning and ensure you use the new skills to their fullest potential when working on your own projects.
Bonus Items
The course also includes a few bonus items to help you along:
Our companion guide that takes you through each lesson, outlining the key takeaways, tool details, keyboard shortcuts, so you can refer to the guide during the course and after.
A fantastic texture pack from our friends at Tony Textures - these are free for you to use in your own designs, or use them throughout the course to help with your learning.
Our own Photoshop Keyboard Shortcut Guide.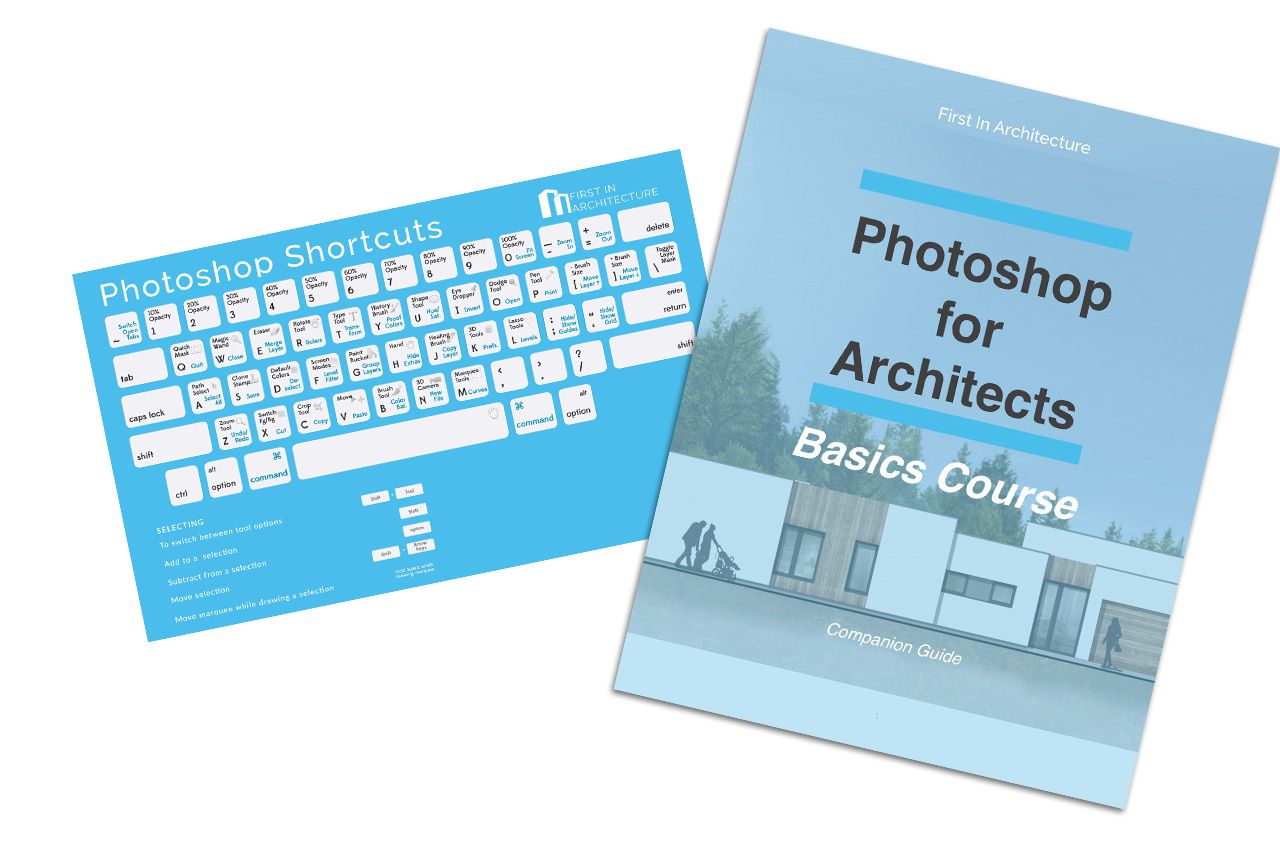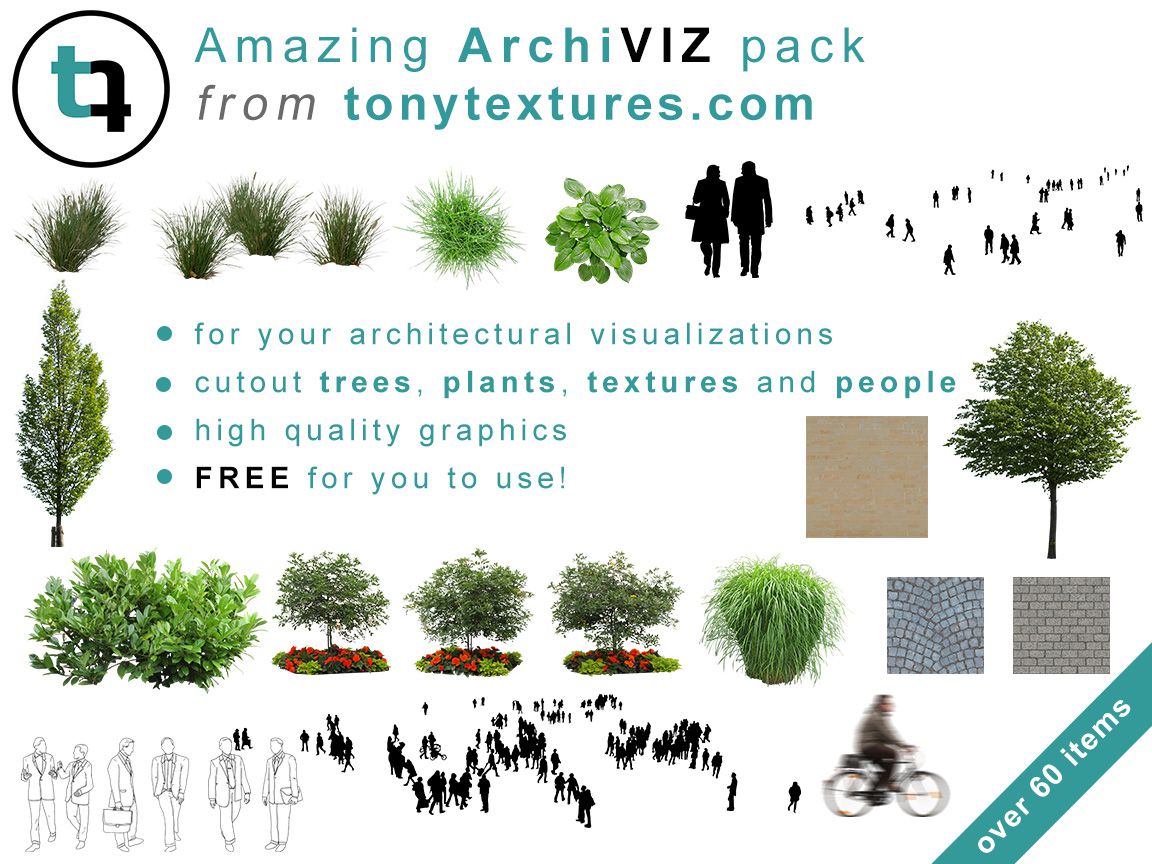 Your Instructor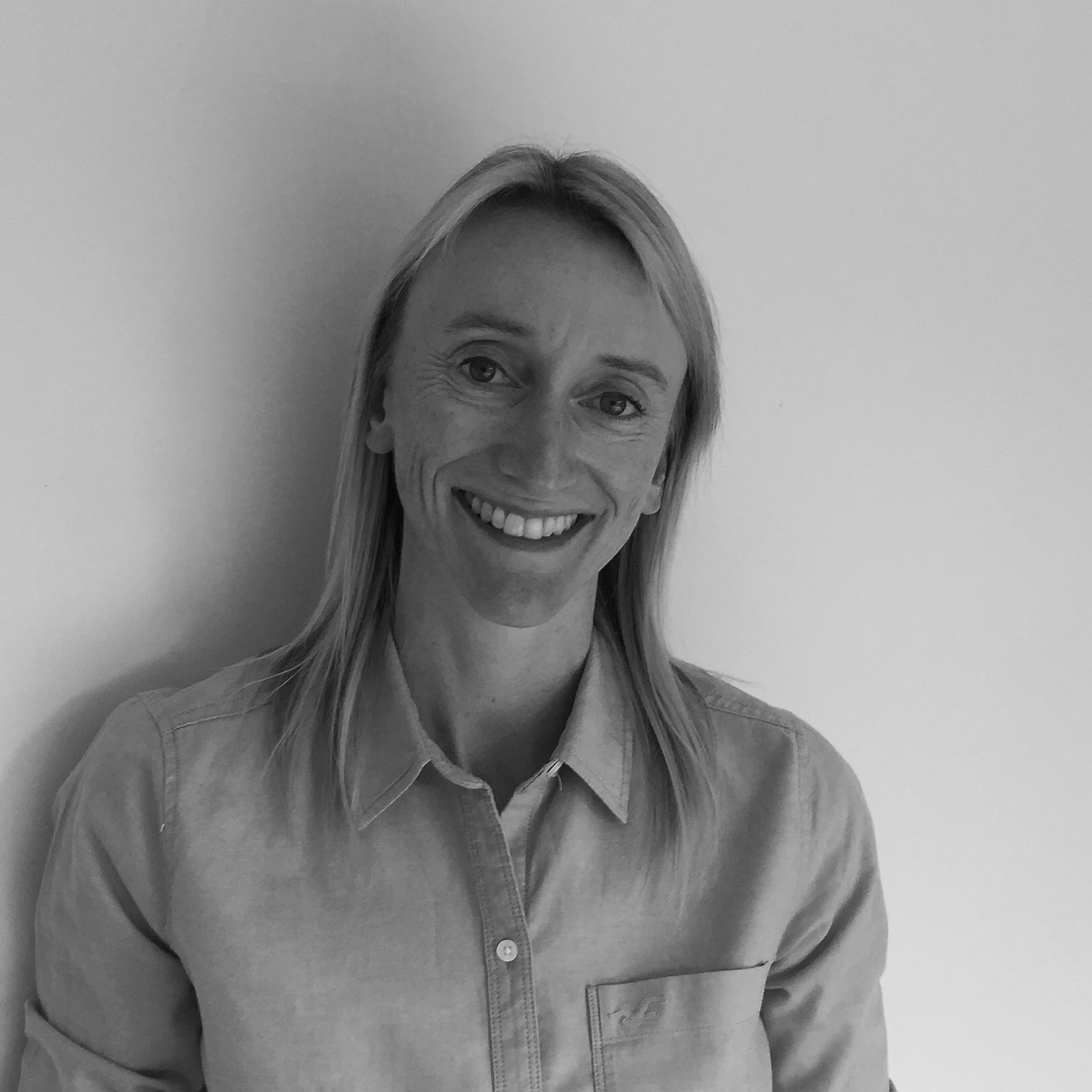 Emma, founder of First In Architecture has been providing tutorials and guides to architecture students and professionals for over seven years now. She loves teaching and sharing knowledge, with a clear and measured approach to her classes allowing students to get the best out of each lesson. Keen to ensure students learn to be productive with their time, Emma aims to teach efficient workflows and maximise output with a focused structured work process.
Course Curriculum
Welcome
Available in days
days after you enroll
Module 1 - Setting Up In Photoshop
Available in days
days after you enroll
Module 2 - Working with Layers
Available in days
days after you enroll
Frequently Asked Questions
How long do I have access to the course?
You will have lifetime access to the course through the online platform. On signing up you will get access to all the videos and content so you can work through the course at your own pace.
What equipment or tools will I need to complete the course?
You will just need a computer and a copy of photoshop. The course is filmed using Photoshop CS6, but Photoshop Creative Cloud will work just fine too. Unfortunately, Photoshop Elements is a little more limited in features so will not have all of the tools that I demonstrate on the course.
What do I do if I need help?
How long is the course?
The course consists of 50 video lessons. The video length varies from 2 minutes to just over 10 minutes.
What if I am unhappy with the course?
Oh no! We don't want that! Obviously we will do all we can to solve any issues or problems you have. However, we offer a 30-day money back guarantee. If you are unhappy with the course for any reason, let us know and we will refund your payment within 30 days. We would appreciate notification within the first 30 days of the course.
How does it work?
Upon signing up to the course you will gain access to the student area. There you will find all the video lessons, exercises and downloads in order for your to complete the course, online, at your own pace.
Whether you want to add some colour to an elevation line drawing, render a floor plan, create a photo realistic visual from a sketchup export, or create an abstract collage, this basics course will give you the skills to do so.
Rather than watching YouTube videos of people working on photoshop in fast forward, with no explanation or description of their processes - learn about the tools in a methodical way, that will give you all the understanding and skills you need to create great work.
Signing up to the course will give you lifetime access, so you can come back and brush up your skills any time, and dip in and out of the course as you need.
Don't take my word for it....
Feedback from a recent student Kayoko - Architect:
I have been searching for a comprehensive photoshop course specifically for architects – I have tried Lynda & some Youtube tutorials in the past and still not able to grasp the basic techniques enough to start rendering architectural plans.

I am so happy to have found your course and to let you know that I am impressed with your course structure and short & precise videos. In about 2 weeks, I managed to finally learn the basics of photoshop!
I will recommend this course to any architects and designers.
It's great that you provide a lifetime access – as I tend to forget after a while and would be amazing to refresh the memories and go over the course.
Custom brush & cut out of trees tutorials were really amazing, with great result.

I look forward to advanced photoshop course if there will be one in the future.

Feedback from a recent student David - Architect:
Working in a small practice (there's just the two of us!) means that finding time to learn new software can be difficult - I'd avoided trying to learn Photoshop for many years partly because I didn't quite appreciate its relevance, and partly because I didn't know where to start. The course you've created is perfect. It provides an overview as to what the software is capable, the learning is broken down into bite size pieces and set out in a logical fashion. Being online meant that I could do the course when I wanted and at the pace I wanted.
Additionally, anything I didn't quite understand I could simply rewind and repeat the tutorial.
I have no hesitation in recommending your course for architects, designers etc looking to get into using Photoshop. Thank you for all the hardworking you've put into creating this course.
Email from a recent student Vanessa - Architecture Student at University of Brighton:
I am writing to thank you for the Photoshop Course that you set up. It has really helped me move from being scared to open the application to confidently using it for a project.
I have not finished the course but it has been extremely helpful so far.
Feedback from a interior design student Steve:
I am an interior design student and wanted to let you know how much your Photoshop for Architects course helped me with my last assignment.
As part of my assignment I had to create an elevation and floor plan of a studio apartment and colour-render them. Even though I had the option to do the work by hand, I decided to learn AutoCAD to do the drafting. Your video tutorials on YouTube helped me a lot with that. When it came to rendering my drawings I decided to enrol into your Photoshop course, because its content matched my needs to the point.
As I was so pleased with the quality of your online tutorials and Photoshop course, and I received a distinction for my finished work.
I just wanted to say thank you for that and let you know that your work helps students like myself.
Feedback from a recent student Daniel - Architect:
The course was great! I really did learn many features that I never even thought of when I was in school. It is a very thorough course for beginners.

Feedback from a recent student Steven - Architect:

I have use photoshop for a few years and could just about get by. However I always found the programme to be a little "clumsy".
I have used online tutorials before on YouTube but they aren't always relevant or tangible to my design needs (architecture & town planning).
I am starting module 4 now and have picked up a lot of great tips along the way. One example being, learning to use masks properly without destroying my images! This has been a great help and will speed up my future workflow.
I only wish I had found the website sooner!